Gorilla 2: The Return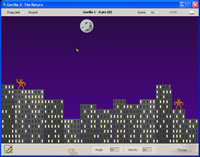 Download (2943KB)
created by: Dani Julien & Matthew Zacharias
requires: Win9x/NT/2k/XP
Remember the QBasic sample game, Gorilla? If not, I'll refresh your memory. It was the classic game that came along with QBasic where two gorillas fought to the death atop city buildings with explosive bananas! Well the long awaited sequel has finally arrived, thus we present Gorilla 2: The Return.
Gorilla 2: The Return is packed with new additions, including an entire arsenal of banana types, more gorilla characters, enhanced graphics, and the ability to play online! Your goal is to hit your opponent by varying the angle and power of your throw, taking into account wind speed, wind direction, gravity, and the city skyline.
A word from OddSim: This game is very true to the original Qbasic Gorilla game while also making huge improvements and adding neat features. This game is freeware, meaning Gorilla 2: The Return may be freely distributed, provided the distribution package is not modified. The original website is gone, and as far as I know, there is no other place on the web to get this file. The authors are unreachable, so I am offering their game to the world for them. Enjoy!