"Multiplier" Cloning Chair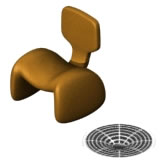 Since I no longer accept donations, I encourage everyone to download "The Key". Just install the object normally; "The Key" doesn't show up in the game, it is only a background object that enables you to make unlimited clones, and even clone your house guests.
Sometimes you just can't get everything done by yourself. So clone yourself! A clone is hard working, programmed to clean the house, and will even do the chores- The perfect slave!