Energizer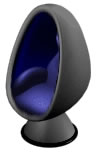 Download (56KB)
created by: Greg
requires: The Sims 1
This is categorized under spa for the studio lot! It's perfect for a burnt out movie star. This gently maxes out your motives and needs. It should work with or without any expansion pack.
This chair is setting new Utopian standards. The egg shape of the chair is perfect for mind altering energy waves on the head. The brain controls the body. And when the brain is happy, the body is happy.
Says Upper Mind delegate Josh Matthouse, "We have been seeing many mood enhancers recently, but this one seems to be the best balanced. It has a gentle affect on the sim sitting in it, and you get your money's worth. It doesn't interfere with the pulse of the lot as much as other brands. Every office should have one."